When camping in remote areas, one of the things you seem to run out of first is bread!

This is an easy camp bread to make, and it's mighty good. This recipe will work in an 8 inch, 10 inch or 12 inch Camp style Dutch Oven. If using store bought charcoal and a 12 inch DO, the coal count is 15 coals on top of the lid and 8 coals on the bottom.

You need:

3 cups self-rising flour
3 tbl sugar
1 tbl dried onion flakes
1 12oz beer—Miller, Bud, etc., no dark beers

If you want your beer bread with a Texas Twist please add:

1/4 tsp dried crushed chili flakes
1/8 tsp dried granulated garlic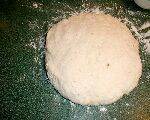 | | |
| --- | --- |
| | Ready to put in the Dutch oven |
The trick to making good beer bread or biscuits is don't mess with that dough anymore than you have to! The more you knead a quick bread dough, the more hard that baked bread or biscuit is going to get.

Mix all dry stuff.
Pour in beer.
Mix up and lay on work surface.
Knead just a little to form a dough ball.
Flatten it out and place in a well greased Dutch Oven.
Place oven in coals.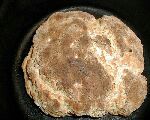 | | |
| --- | --- |
| | Looking down into a 12 inch Dutch oven at a cooked loaf of beer bread. |
1/3 coals on bottom, 2/3 coals on top.
Bake about 15 to 25 minutes.
Check after the first 10 min or so.
When nice and brown on top, remove and knock on the bottom of loaf.
If it says THUNK it's done.

This is a note to the folks that are new to the art of baking in the coals in a Dutch Oven. As you most likely know, cooking time, especially in baking, varies a lot in coal cooking, but don't let the idea of baking bread or biscuits in a Dutch Oven in the coals throw you! It ain't rocket science! In fact it's not science at all! It's an art! In fact, until just recently, DO cooking and baking was almost a lost art! DO cooking used to be pretty much limited to some folks that liked the old time ways (like Da Cap'n) and the Boy and Girl Scouts—the Scouts never left that Dutch Oven! They knew exactly what it could do and used it!

The only thing iffy about DO baking is the time you need to get that baking done. The main reason that baking time can't be nailed down is because of the fuel you use. Even when using store bought charcoal, the heat that charcoal puts out will vary with the brands of charcoal you use (some burn hotter than others).

When you get to campfire coal cooking, using firewood, we really have a problem! Now out here in the Big Thicket where I live, I use red oak for my firewood. The reason is I got bunches of it falling on the ground all the time—dead fall!

I ain't about to go to the store and buy a $10 sack of charcoal with my hard earned money when I got cords of red oak on the ground waiting to get picked up. Red oak burns with a good heat, and I can time stuff pretty good because I cook and bake with it a lot.

Now if you live near a pine forest, maybe got a lot of mesquite, or maybe western cedar, you have some fine fire wood for DO cooking—but each of these woods burn different and produce different amounts of heat! So the best way to learn is to give it a try! It will not take long before you know exactly how long it's gonna be before you got bread or biscuits!