Howdy folks!

I don't know about you, but I love to cook dishes from different parts of the world. I do this at home, and also when I'm camping. This dish is a matambre, which has its roots in Argentina. Matambre is a stuffed rolled beef steak, and it was cooked as a camp and travel food back in the old days. The word matambre means kill hunger and this dish does just what it says it will! It's a very tasty dish, especially when served over steamed rice topped with some of the stock and meat juices from the bottom of the Dutch oven.

The dry spices can be adjusted to your taste. I have written this recipe spiced fairly mild; my wife and I lean real heavy on the garlic. If you would like to use fresh garlic and parsley, that's fine!

Cap's Matagorda Matambre
3, 1 pound each round steaks—beaten flat with a meat hammer

3 large carrots—made into peelings (keep peeling 'til carrots are gone)

1/2 large head cabbage—thin sliced (cut across top of the cabbage head)

6 big green onions—chopped (tops and all)

1 1/2 tsp dried granulated garlic

1 1/2 tsp cracked black pepper

6 tsp dried parsley flakes

1 1/2 tsp seasoning salt (I like Lawry's)

some cotton string (butcher string)

2 cups rich beef stock

light sprinkle of Cajun spice (I like Tony's)
Click thumbnails for full size Javascript popup photos.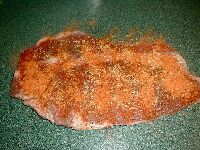 Round steak flattened and spiced.



For each 1 pound round steak: pound the steak good and flat.

Sprinkle on 1/2 tsp garlic bits (equals 2 garlic cloves), 1/2 tsp pepper, 1/2 tsp seasoning salt, 2 tsp dried parsley flakes. Pat this into the meat real good.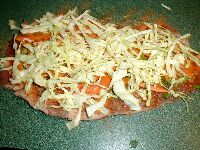 Layering the vegetables.



Layer 1/3 of the chopped green onions on top of the meat.
Layer 1/3 of the carrot peelings on top of that.
Layer 1/3 the thin sliced cabbage on top of that.
Gently roll the filled round steak into a roll (like a jelly roll).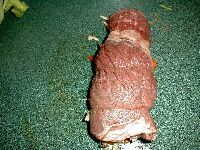 Rolled and tied.



Cut some butcher string and tie the steak roll on both ends and in the middle.

Now repeat this for the other two steaks.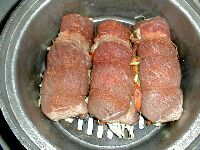 Inside the Dutch oven.



Place a trivet inside a Camp Dutch oven (12 inch or better).

Place the 3 rolled steaks on top of the trivet.

Gently pour the beef stock into Dutch oven, then lightly sprinkle the Cajun spice over everything.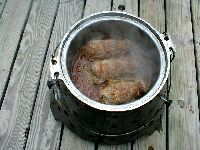 Cooking!



Place in medium coals (350 American degrees) and bake/cook for 1 1/2 hours.

Note! Do not throw away all that wonderful juice in the bottom of the Dutch oven! It makes a great gravy, sauce, or soup/chili stock!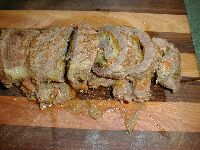 Let's eat!



Remove and slice into rounds and serve! Goes extremely well with a dollop of creamed horse radish.

Copyright 2002 by Phil Mahan
Cooking With Da Cap'n