This recipe is based on one given to me by Carolina Henderson, the chief cook and bottle washer and the old blues song expert at ZZ's juke joint in Ferriday, Louisiana. For Carolina's recipe, click here.

I used a Lodge 2-quart Camp Dutch Oven, # 8CO. The recipe feeds three people. For four to eight people, double the ingredients and the size of the pot.

I made this recipe as simple as possible. When you cook over an open fire miles from nowhere, you want few steps and few ingredients. I didn't even use pork neckbones. I used a chunk of backbone from a wild hog and two turkey necks left over from Thanksgiving. The meat for this fine meal cost me zilch. The entire meal cost me perhaps 50¢.

NOTE: Use chicken instead of pork neckbones and make a fine chicken and rice!

Ingredients:
1 to 1 1/2 lbs non-smoked pork neckbones (or any other kind of neckbones or backbones)

1 cup rice

3 cups water

1/2 to 1 bunch green onions, chopped (or a small to medium onion, chopped)

1 tsp garlic powder

1 tsp salt

1/2 to 1 tsp black pepper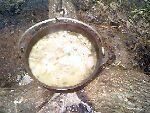 | | |
| --- | --- |
| | 15 minutes after adding the rice. |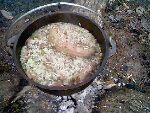 | | |
| --- | --- |
| | 25 minutes after adding the rice. It's almost ready to eat. |
I began by dumping the meat in the pot and then dumping the chopped green onion and the spices on top of the meat. No browning, no nothing. Just dump 'em all in there. Start with frozen meat if you want. I did. In this photo you can see the chopped green onions in the center of the pot, and at the four o'clock position you can see the spices in a pile on a frozen turkey neck. Add the water and start the pot to boiling.
When the pot starts boiling, put lid on pot, then reduce heat and simmer for 1 to 1 1/2 hours.
Test meat with fork. If meat pulls easily from bones, it's done.
Let pot cool slightly, then skim off fat.
Add rice. With lid off pot, simmer for 20 to 30 minutes or until liquid has evaporated or been absorbed by the rice. Stir occasionally.
You won't believe something so inexpensive and so easy to cook can taste so good.
This recipe also works with chicken necks, duck necks, goose necks, deer neckbone, deer backbone, or any boney red meat your culture considers fit for human consumption. Tell y'all what. Try neckbones and rice just once, and you'll start saving those necks stuffed up inside frozen turkeys and chickens.
If you don't worry about cholesterol, finely chop the heart, liver, and gizzard also stuffed up inside that frozen turkey or chicken and add them to the pot at the beginning of the process. You'll then have a delicious dish called "dirty rice."
Update 8-01-11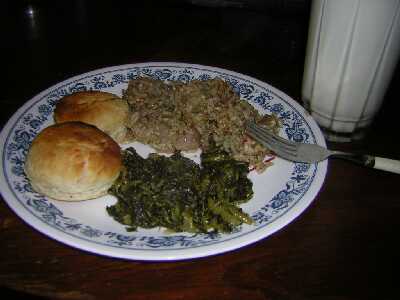 Ten years later just the neckbones cost $2.41. I cooked them exactly the same as in the recipe above but with three exceptions:
I added 1/2 of a chopped red bell pepper.

I drained and de-boned the neckbones.

I measured the drained liquid and added a little water to make the volume = exactly the 2 cups of liquid needed for 1 cup of rice.
Using de-boned neckbone meat + the exact volume of liquid needed for 1 cup of rice + the red bell pepper made this the best batch of neckbones & rice I've ever cooked. The de-boning also eliminated gristle and bone fragments, etc.

The batch you see here was served with two cathead biscuits, a big ol' dollop of turnip greens with a double dash of homemade pepper sauce, and a glass of ice cold buttermilk.

If I owned a soul food restaurant I'd serve pork neckbones & rice prepared exactly like this. However, I'd leave the meat on some of the neck bones and include one with each serving. For color, I'd place a raw stalk or two of green onion across the rice.

Side dishes would be turnip or collard greens with pepper sauce and/or a baked sweet potato and/or candied yams or banana pudding. You'd have a choice of homemade biscuits with real butter and/or sugared or sugarless cornbread, also with real butter. For drinks, you'd have a choice of sweetened or unsweetened strong tea, ice cold milk or buttermilk and several choices of ice cold dry white wines. My favorite chilled wine, Mouton Cadet Rosť, would also compliment this wonderful meal.