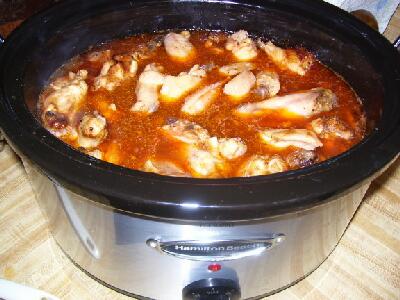 Howdy folks! I don't know about you, but I love chicken wings! This is a Lazy Man recipe, Cap is a lazy cook when I can get away with it!

There are many ways to cook chicken wings, most of them are hard work! Here's what I do! To make this recipe you will need:

a Camp Dutch oven or slow cooker

chicken wings

smoke flavored seasoning salt

liquid smoke seasoning

Kraft's original BBQ sauce

hot sauce

some beer

This recipe is "adjustable" for your size Camp Dutch oven.

Buy as many chicken wings as can fit in your Dutch oven, remember to leave an inch of space on top when you finish loading it up.

Wash wings and place on cutting board. With a cleaver, whack off the wing tips, save the wing tips for the bottom of the pot, or use them for crab bait. However, I'd like to point out that young kids love the wing tips, it's true!

Whack the wing again at the joint so each wing makes two pieces.

Go ahead and whack the rest of the wings like I just mentioned, I'll wait for you to catch up. . . .

OK!
Lightly sprinkle the wing parts with a smoke seasoned salt, now lightly season again with a garlic salt.

Throw the wing parts (wing tips on the bottom) in the Dutch oven.

Make a mixture of Kraft's original BBQ sauce and beer (the mixture should be half and half) make enough to cover the wings. Before you add this sauce to the Dutch oven, add a few good shakes of liquid smoke seasoning and some hot sauce, mix this up real good and add to Dutch oven 'til meat is barely covered.

Place lid on Dutch oven and place in moderate coals Bake for about 1 1/2 hours, or until chicken is done.
If you feel the sauce is too thin when the wings have finished cooking, just pour off some of the cooking juice and add more BBQ sauce.
Serve!
These wings are lip smacking good, but messy to eat! Have plenty of paper towels around. If the sauce drips on your T-Shirt, just take the T-shirt off and shoot it, cause that spot ain't never coming out!
If you have electric power at camp and a slow cooker it gets easier yet!
Electric slow cooker method:
Follow the recipe as listed above, but when you make the sauce, use 2/3 BBQ sauce and 1/3 beer.
Set the slow cooker on "high" and let cook 4 to 5 hours (4 hours usually does the trick).
Serve!
Spice recommendations:
Cap highly recommends Lawry's garlic salt, TexJoy Old West Mesquite seasoning, or Durkee Grill Creations "Smokey mesquite" seasoning, Clogin brand natural "liquid Smoke" and Tabasco brand classic red hot sauce.