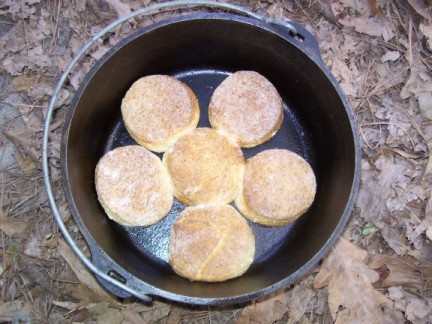 Here's a biscuit recipe that Grandpa forgot to tell you about, and it uses baking mix!

These biscuits come out so light and fluffy, ya gotta be careful they don't float out of that Dutch oven when you take off the lid!




4 1/2 cups biscuit baking mix (any kind)
3 tbl white sugar
4 tsp dry (1 packet) baker's yeast
1 1/3 cups warm milk (not hot, about body temp)

Mix all the dry stuff up, pour in the milk, stir til dough starts to thicken
Lay out on floured surface and start to gently knead the dough (dough will be wet and sticky) add more baking mix as you knead, til dough is non-sticky
Knead gently a total of about 20 times

Pat (do not roll) dough out about 1/2 inch thick, cut out biscuits with a 2 3/4 inch biscuit cutter, or an empty pork and beans can
Place biscuits in lightly greased baking pan or Dutch Oven, cover with a cloth and let rise til double (about 1 1/2 hours)
Bake at 400 American degrees til golden brown, about 12 to 15 minutes
Serve!
This recipe will make about 14 to 16 good sized biscuits, cut the recipe in half for smaller groups.

For Sourdough Fans

If you would like sourdough biscuits:
Reduce the milk by 1 cup

Reduce the biscuit mix by 1 cup

Add 1 1/4 cups sourdough starter

Add 2 tbl dry skim milk powder
Follow the recipe as written, do not forget the Baker's yeast, rising times and baking times remain the same.