A few weeks before deer season 2008 my younger brother and I took our rifles to the river bottom to check sight zeros under actual hunting conditions, i.e., leaned against a tree in the woods where we would hunt. I use a little set of jeweler's flatblade screwdrivers to adjust sights, but I left it at home. We had to return home and retrieve it and return to the woods.

To prevent that from happening again I decided to make a sight-specific set of bits. I would put them in the hollow handle of an old Lyman bit driver and store the driver in the glovebox of my truck. There it would stay until I needed to adjust a sight.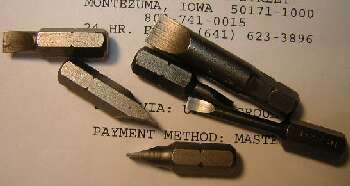 On the right see the six bits I used. Five were on hand and of unknown origin, and I ordered one from Brownells. It's the skinny bit at 5 o'clock.
I spent several hours trying various bits in various rifles and handguns. I altered three bits with a file in order to use them on more than one firearm.
I need to define two terms as used in this article:
Fit means it works in my screw slot.
Perfect fit means there's no or just a trace of side to side play, and the blade closely matches the length of the screw slot.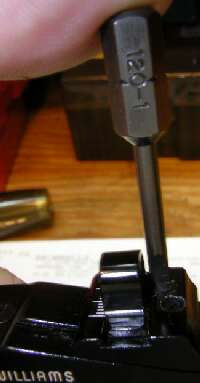 Here's the Brownells bit in the windage screw of a Williams WGRS sight. The bit cost about $3. It's a Brownells 120-1 with a shaft diameter of .120" and a blade thickness of .020". I simply micrometer-measured the jeweler's screwdriver blade which fit the slot and ordered the Brownells bit which matched.

This 120-1 bit fits:
Williams WGRS windage & elevation screws
Williams WGOS windage & elevation screws
Williams 5D elevation adjustment screw
Ruger SBH windage screw
Let's look at the bit nomenclature used by Brownells. From the bit 120-1 description above we know that the first number is actually the bit's diameter. So 120 means .120" and 240 means .240". Simply measure the diameter of your screw head and order the same diameter bit or one slightly smaller.

The last number references the thickness of the blade:
1 = .020"
2 = .025"
3 = .030"
4 = .035"
5 = .040"
6 = .045"
7 = .050"
8 = .070"

So bit 240-2 mentioned below has a blade diameter of .240" and a blade thickness of .025".

On the right is a much-altered bit which fits many of my gun screws and sight screws, including scope screws.

If you'll notice, it's a homemade, hollow-ground bit. It measures a perfect fit .181" x .037" vs bit 180-4 at a fit of .180" x .035" in the three grip frame screws on my Ruger SBH.

On my pistol, those screws shoot loose no matter what I do to prevent it. This bit was originally a tad too wide for one of the grip frame holes, so if you'll notice I filed that tad off the right side of the blade.

This bit also fits the elevation lock screw of a Williams 5D peep sight.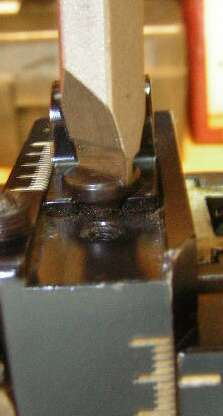 I made this bit to perfectly fit the windage screws on a Williams 5D peep sight.
If you'd rather buy a bit to fit this screw, you need Brownells bit 240-2.
Actually, bit 240-1 (.020" thick) fits the screw slot but is a little loose. Bit 240-2 (.025" thick) is a little tight.
If bit 240-2 is too tight in your slot, take a file or even emery cloth and burnish one side of the blade for a perfect fit.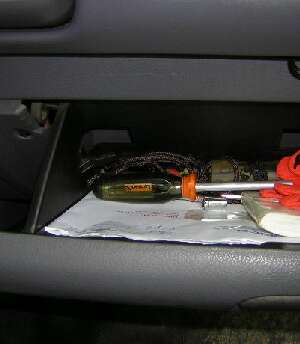 Here we see the final results in its new home inside my truck's glovebox. There it will stay. There's room inside the driver handle for several more bits if I decide I need them.
The cost was about $3 plus some bits and a driver I had on hand.
In case you'd rather buy ready-made bits, below you'll see some by-gun and by-sight bits selected for fit to perfect fit in my screw slots. They may be too tight in your screw slots, so do some file adjusting if needed.
---
Ruger SBH
Grip frame = 180-4
Ejector housing = 240-4
Windage = 120-1
Elevation = 180-2
---
Williams 5D
Mount = 180-4
Elevation lock = 180-4
Elevation = 120-1
Windage = 240-2
---
Williams WGRS
Mount = 180-2
Windage = 120-1 (Bit 150-1 fit my slot width better but was slightly too thick for the slot. If I changed zero often, I'd file a 150-1 to perfectly fit the slot.)
Elevation = 120-1
---
Williams WGOS
Windage & elevation = 120-1
---
If you use the above Williams sights notice how only four Brownells bits will cover your needs: 120-1, 180-2, 180-4 and 240-2.
---
Lyman 66
Mount = 150-4
Windage scale = 120-1
Elevation scale = 180-2
Elevation slide set screw & lock screw = ???? The jeweler's screwdriver which fit these two screws measured .025" blade thickness and .078" shaft diameter. So to fully adjust this sight in the field you'd need the proper jeweler's screwdriver or an extremely file-adjusted bit 120-1. On a hunting rifle, I'd adjust it via replacing it with a Williams 5D. . . .
---
Remember: Check the above bits for fit in your screw slots. File-adjust if needed.