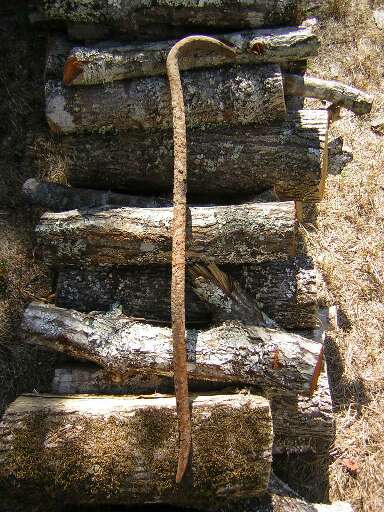 Down in the hole the 190 gr bullets blew in my front yard I could see a rusty iron pipe. As it ran in the same direction as a long abandoned 1/2" natural gas pipeline, I assumed it was part of the old pipeline. Shovel in hand, I was prepared to fill the hole, but I decided to check out the piece of rusty pipe.

I pried it with the tip of the shovel and saw the ground move a foot or so on each side of the hole, i.e., the rusty pipe had a finite, short length and was not part of a pipeline. So I pried it out of the ground. There before my eyes lay the old homemade crowbar you see in this photo.

They tore down my great-grandfather's house in 1941 and built a new house with the old lumber and on the same site. My uncle Henry Breithaupt, a carpenter, built the new house. As he and my great-grandfather were both blacksmiths, one of them surely made the crowbar. When the house was built my great-grandfather had been dead for four years—b 1861 d 1937—but this crowbar could be his handiwork.

I suspect the crowbar got lost in the stack of recycled lumber. It may not look like buried treasure to you, but it's priceless to me.