Over the years I've thrown away two sets of cheap Tasco scope rings. Even at today's price of about $6 a set, they're disposable. Their problem is metric hex ring screws. Each set comes with an M2.5 metric hex wrench, but invariably the user misplaces it. He later decides to swap the scope, so he picks up the most common scope ring hex wrench, 3/32", and he uses it on the metric screws.

The 3/32" hex wrench works . . . almost. It's too small and rounds off the hex cavity in the screw's cheap Chinese iron head. So the user finds a 6-48 Fillister screw which looks almost exactly like the metric screw, and he tries to install it. It's 48 turns per inch, and the female threads in the metric screw hole are M.5 or 50 turns per inch. The 6-48 screw jams. And boogers the aluminum hole threads. In the trash goes the Tasco rings.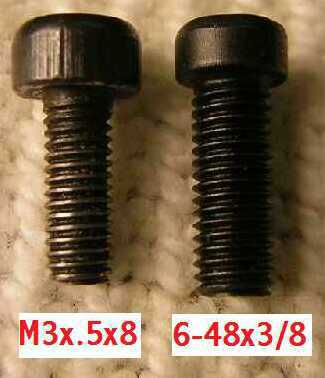 I decided to see if I could fix the screw problem. The "fix" was simple: replace the four Tasco metric screws with USA 6-48 x 3/8" T-10 Torx Fillister screws.
First, let's look at a Tasco metric screw. In this photo, that's one on the left with a USA Fillister screw on the right.
The biggest difference is the head diameters. That's ok because I didn't have to reduce the Fillister screw's head diameter so it would fit in the ring counterbore. A less visible difference is the screw diameters. By my micrometer, they were:
6-48 = .1380"

M3 = .1145"

= .0235"

So I had .0235" of tap room in the wall of the M3 hole. I could see no problem with tapping 1 in 48 threads over the smaller metric threads, especially in aluminum.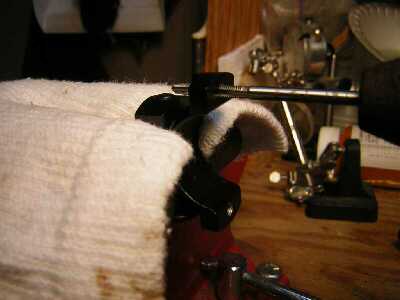 I didn't even drill pilot holes. I simply turned a 6-48 taper tap through the M.5 threads.
It took me only a few minutes to re-tap 4 holes.
This staged, after-the-fact photo doesn't show the oil and the aluminum chips and slivers. If all you have is a 6-48 plug tap, it should work just fine.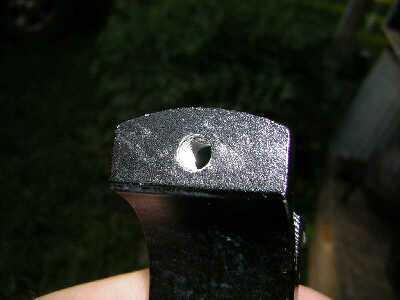 As you can see, the threads came out perfectly.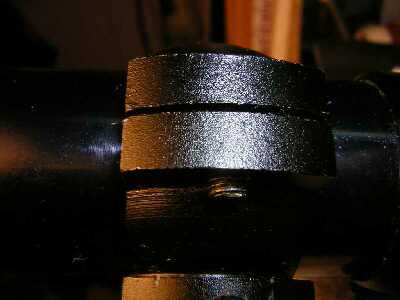 Here's a look at the underside of a "fixed" Tasco ring installed on a scope.
The 6-48 x 3/8" T-10 Torx Fillister screw protrudes about 3 threads with the rings tightened down on a scope. It has 100% thread purchase through the threaded bottom ring half.
A 5/16" length screw would have worked, but, tightened down on a scope, about one thread would lie beneath the surface, i.e., maybe 90% thread purchase. As the ring sets have only one screw per side, I wanted each screw to have maximum thread purchase.
The original M3x.5 screws also stopped about one thread shy of 100% purchase with the rings tightened down on a scope.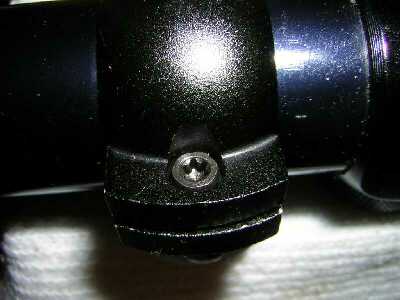 Here's a view of the top of a ring half. That rounded vertical slot above the screw head prevented me from installing 8-40 screws. I couldn't use an 8-40 counterbore.
Regular 6-48 x 3/8" slotted or hex Fillister screws would have worked, but I used Torx screws for added strength due to the rings having only one screw per side. A Torx screw can be torqued down more than a slotted or a hex screw.
I tried my best to over torque this screw and either break it or strip the T-10 head or strip the aluminum hole threads. I couldn't do it with a handheld bitdriver, and I used all the strength I had.
None of these four ring screws will ever shoot loose, IMHO, unless maybe I use them on a big ol' heavy scope on a 458 Win Mag rifle or a 45-70 handgun. The reasons are:
20% thicker #6 screws vs the less than #5 thickness of the M3 screws.

100% screw thread purchase for the #6 screws in the bottom ring halves vs about 90% thread purchase for the M3 screws.

37% more surface area for the #6 screw threads vs the M3 screw threads. That 37% more surface area is the key to the 6-48 screw's additional strength, I believe. Surface area = gripping area.

High quality USA-made screws with Torx heads for greater clamp-down torque.
Four 60¢ American screws made my cheap Chinese Tasco rings a true bargain. But if a ring's clamping screw breaks, I will trash the ring and spend $6 for a new set. I couldn't figure out a way to economically fix that weird knurled-head clamping screw. I guess I could spend $6 for a new Tasco ring set, and I'd have two spare clamping screws.

You can buy a 6-48 taper tap and a tap handle here.

You can buy four 6-48 x 3/8" T-10 Torx screws here. If you have money to spare, on that page you can also buy four 6-48 x .350" T-15 Leupold Torx screws for even more torque. However, I don't think you need it.