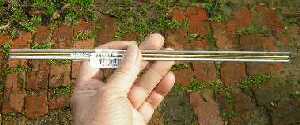 Solid stainless steel, brass and aluminum rods in 12" lengths only.

These solid rods have many uses in projects of all kinds, but they're especially useful as pins for attaching scales to knife handles and for reinforcement pins in cracked gunstocks, etc.

Use the PayPal links below or send cash, check, MO, or U.S.A. postage stamps to:
Kim Doughty-Ganey
3306 Big Oak Drive
Tyler, Texas 75707
Be sure to add the $4 per order S&H charge.
Warning: No way can I ship the smaller rods across the country without some slight bending of the package and the rods. If that isn't satisfactory, don't place an order.
---
NOTE: PayPal automatically adds the $4 per-order S&H charge.
All rods are solid and 12" in length.
| | |
| --- | --- |
| Stainless steel 1/4" rod @ $5.00 each | |
| | |
| --- | --- |
| Stainless steel 3/16" rod @ $4.50 each | |
| | |
| --- | --- |
| Stainless steel 1/8" rod @ $2.70 each | |
| | |
| --- | --- |
| Stainless steel 3/32" rod @ $2.50 each | |
| | |
| --- | --- |
| Stainless steel 1/16" rod @ $1.90 each | |
---
| | |
| --- | --- |
| Brass 3/16" rod @ $4.80 each | |
| | |
| --- | --- |
| Brass 1/8" rod @ $2.70 each | |
| | |
| --- | --- |
| Brass 3/32" rod @ $1.90 each | |
| | |
| --- | --- |
| Brass 1/16" rod @ $1.20 each | |
| | |
| --- | --- |
| Brass 3/64" rod @ $1.20 each | |
| | |
| --- | --- |
| Brass 1/32" rod @ $1.20 each | |
---
| | |
| --- | --- |
| Aluminum 1/4" rod @ $3.65 each | |
| | |
| --- | --- |
| Aluminum 3/16" rod @ $2.65 each | |
| | |
| --- | --- |
| Aluminum 1/8" rod @ $2.40 each | |
| | |
| --- | --- |
| Aluminum 3/32" rod @ $2.10 each | |
| | |
| --- | --- |
| Aluminum 1/16" rod @ $2.70 each | |
| | |
| --- | --- |
| Aluminum 1/32" rod @ $2.40 each | |
---
Home